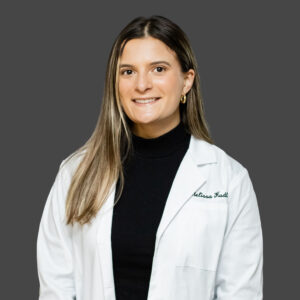 Melissa Kudlak, a SURF 2022 participant and current Rutgers Pharmacy student, has been awarded a competitive research grant from the American College of Clinical Pharmacy (ACCP) Foundation. The title of her project is Elucidating Flavored E-cigarette-Induced Pulmonary Toxicity using Precision Cut Lung Slices. Melissa will be performing this research under the mentorship of Dr. Andrew Gow.
The goal of this research is to characterize cinnamon-flavored e-cigarette toxicity by investigating both functional and mitochondrial dysregulation caused by flavored e-cigarette exposure in precision cut lung slices (PCLS). The results of the proposed research, using this unique model, will impact e-cigarette toxicology by proposing a method to rapidly screen e-liquid toxicity.
The ACCP grant includes funds to cover the cost of supplies and services. Melissa will perform the research over the course of the coming year and report her findings to the sponsor.
Additionally, Melissa was accepted into the Toxicology Mentoring and Skills Development Training (ToxMSDT) program for the current year. This program trains undergraduate students in the STEM sciences with the goal to build a pathway for students to enter graduate toxicology programs and ultimately the toxicology workforce. Each student mentee is matched 1:1 with volunteer mentors from industry, academia, government, or nonprofit entities from across the country. Mentee and mentor training is provided to all participants at the inaugural kick-off workshop preparing mentees for regular meetings with their mentor to receive career guidance. A job shadowing visit, the '2 Days in the Life of a Toxicologist' event, offers insight into mentor's career path in toxicology and on the skills needed at the mentor's current place of work. In addition, mentees attend the annual Society of Toxicology conference to continue networking efforts with professionals and to discover future career opportunities.
We are extremally proud of Melissa for her remarkable achievements!